MISCELLANEOUS WAGONS
PAGE 2
C.F.M.F. type PCA Cement/Powder tanks
The first wagon was APCM 10838 then followed by BCC 10839-849 giving a total of 12 wagons - these were used mainly on traffic from Eastgate, Northfleet and Oxwellmains. During the recession of the 1980s many of these wagons were placed into store pending re-use. During the late 1990s a new flow of Pulverised Fly-Ash from Longannet Power Station in Scotland to the Blue Circle plant at Westbury commenced using these wagons and some of the centre-depressed PCA tanks in the 107xx to 109xx number range. This traffic still continues today.
PC017A; C.F.M.F., France 1980; Tare 13.80 t; GLW 51.00 t; Gloucester Floating Pedestal
| | |
| --- | --- |
| | |
| | |
| | |
| | A selection of close-up views of STS 10623 in plain grey livery when it was stored at Oakleigh Sidings. I took the photos with permission of the yard shunter one Saturday afternoon. |
Above : Six detailed views of the underframe of the PCA tank that may be of use to the modellers out there !
Above : Newly re-furbished STS 10633 in a light grey/white CAIB livery. From Cheona Publications/Geoff Gamble collection.
The second batch of wagons were built for Storage & Transport Services (STS) for general purpose hire - most were used on traffic for Rugby cement although in later years ownership changed to that of CAIB UK. These were numbered STS 10600 - 651 a total of 52 wagons. During 1992 the wagons were all in store at the following locations; Selby 38, Westbury 12, Horbury 1 and Peak Forest 1. Most of these wagons now operate from Ketton for Castle Cement alongside the third batch of wagons noted below - only 10623 remains in storage at Marcroft Wagon Works, Stoke-on-Trent.
PC017B; C.F.M.F., France 1982-83; Tare 12.85 t; GLW 50.75 t; Gloucester Pedestal.
The third batch of wagons to this design were built in 1985 again for STS. Numbered STS 74030 - 74044 the 15 wagons were initially used alongside the other wagons then stored at either Healey Mills yard or Cambridge. Most are thought to be in service on cement from Ketton.
PC017C; Fauvet-Girel, France 1985; Tare 12.80 t; GLW 51.0 t; Gloucester Floating Axle.
Incidently, Wizard Models from Macclesfield have recently produced a 4mm kit for these wagons which can be built to represent any of the three batches of wagons. I will be looking to acquire some of these shortly. I noted 10839 / 840 / 843 and 846 in the consist of the 6J91 Earles Sdgs - Weaste on the 28/03/2001 behind 66523. This is probably one of the few occasions that these wagons have not worked from Oxwellmains in Scotland.
Fauvet-Girel 'Polybulk' Covered Hoppers JIB


Above : Two views of the French built covered hoppers used on the LaFarge (Redland) Dowlow powdered lime flow. Both views at Peak Forest during February 2001 on the 6F67 Dowlow - Peak Forest - Warrington Arpley 'Enterprise' feeder service. Most of the wagons have Traffic Services markings with the TSL logo and CAIB logos as well. Livery is originally grey but now a much weathered brown. Wagons noted on these services include; 33 70 9382 000-5 / 003-4 / 009-6 / 010-4 / 016-1 / 026-0 / 030-2 / 034-4 / 043-5 / 045-0 / 047-6 and 049-2 = 12. Most of the wagons are used on the flow of lime to PD Stirling at Mossend along with the 4 remaining JAA wagons. But there would appear to be another flow involved possibly to the Glassworks at Kirk Sandall near Doncaster. The blue 47T has been sprayed onto the sides as there have been occasions where the wagons have been overloaded, damaging the bogies.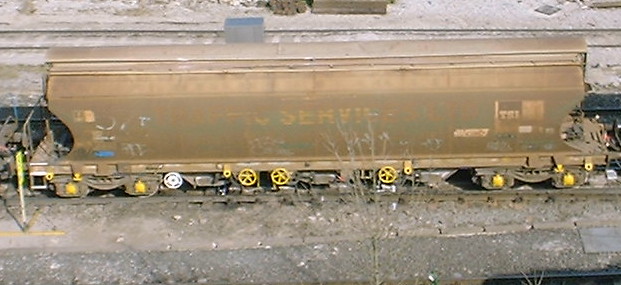 Above : JIB 33 70 9382 010-4 is seen in the consist of 6F67 on the 28th March 2002. The Traffic Services and TSL logo can just be made out thru the grime. Also some of the original green livery can be seen as well.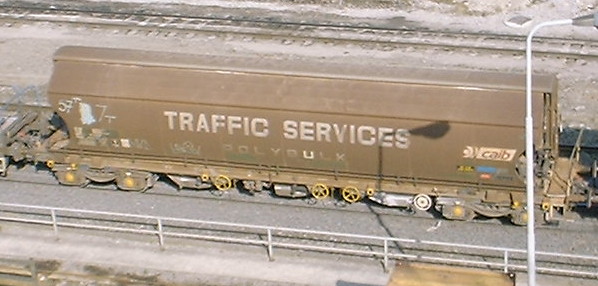 Above : In the same train as above, 33 70 9382 042-7 is a further example in a slightly cleaner condition. Note that the 4 of the 47t spray marking has been scrubbed out and replaced with 57t !