MISCELLANEOUS WAGONS
These are the wagons that have only been seen in the Peak District area on a few occasions or that only one such wagon exists. I will also included the newer designs of wagons that have been introduced over the past few years as well.
Powell-Duffryn Prototype JHA Hopper
Above : This unusual looking wagon is JHA PDUF 17951 which is an experimental Aluminium bodied aggregate wagon built by Powell Duffryn. The hopper door release handles are recessed into the bodyside in the holes. Discharge is via four doors positioned as follows Door : Bogie : Door : Door : Bogie : Door. It is fitted with Low Track Force or LTF bogies and a small brakewheel is fitted to the lefthand bogie. Overall the wagon is very short. This wagon is currently used by RMC in the general wagon pool although intially problems were encountered with the performance of the wagon which I belive lead to it returning to Powell Duffryn. However, it is now back at the Forest. This view Jan 1997 though definately in use December 1999 ! This was the last wagon built by Powell Duffryn before they closed. However, by mid-2000 the wagon had again disappeared. Does anyone know its current location ?
Ahhh - I spotted the wagon in the consist of the 6F67 Dowlow/PF - Warrington during mid-January - it was accompanied by 4 RMC wagons from the 17201 - 17224 or 13700 - 13712 range (curved bodysides). It is likely that the RMCs were heading for Wabtec at Doncaster, so that they can be overhauled - all 4 wagons were in the old RMC roadstone livery. As for the PDUF wagon who knows. Further info will be added if I hear anymore.
National Power JHA Bogie Limestone Hopper

Above : The first of the National Power (NP) limestone wagons JHA NP 19400 marshalled in with the others at Peak Forest. This is one of the inner wagons by fact that it has no buffers only a knuckle coupler. These wagons were originally used on the Tunstead to Drax Power Station flow which was setup by National Power during 1994 and ran using the newly acquired class 59/2 locomotives. Similar wagons to these coded JMA were built for the coal traffic and these are longer than the JHA version. They have LTF bogies fitted as standard. They have seen usage on RMC services notably the Bletchley and Airport flows mainly at weekends when they are surplus to NP requirements hence the reason they are seen here. Now that EWS own the NP locos and wagons they are not seen as much.
Bogie Box wagons - ex-Procor and ex-Tiger Rail

Above : PXA PR 3195 in the sidings at PF. These wagons were parked here for a purpose ! EWS had been experiencing problems with local yobs damaging locos that were stored in the sidings awaiting their next duties either overnight or during the weekend. So they parked a rake of 10 PXA wagons in front of the locos to deter the vandals. The actual wagons were used on the stone flow to Leeds Balm Road for RMC during the week.
Above : Another of the anti-vandal wagons this time PXA PR 3250. Note the difference in design to the previous wagon as regards the side ribs and underframe. Gloucester bogies are fitted to this and 3195.
Fuel Oil TTA / TUA Tank wagons

Above : Fuel stained TTA 67880 in BP Green livery with Railfreight Petroleum logos and obligitary Hazchem markings. This wagon is used to convey diesel fuel to the fuelling point near to the staff building (the former Peak Dale station building). The wagon is tripped to and from Warrington Arpley by means of the Enterprise feeder service to Dowlow which drops and collects wagons from PF as required.
Above : TTAs at Buxton on New Years Day 1992. 47 'RAPIER' buffered upto the tanks. The tanks are from l-r; 65659, 67101 and 65631. These would have arrived from Warrington behind a light engine move or short transfer service as there was no Speedlink network at this time. Tanks 659 and 631 sport the black colour scheme whilst 101 is in the Shell Dove Grey scheme with red solebar with Hazchem info board below the TOPS data panel. The black tanks have a warning sign in the same place and also Railfreight Petroleum symbols on the right hand end next to the service and wagon repair data stickers. White numerals on black tank and red numerals on grey tank. All three have single walkway on top. Hornby have done both versions of this livery on their ageing TTA tank model and very nice they look too !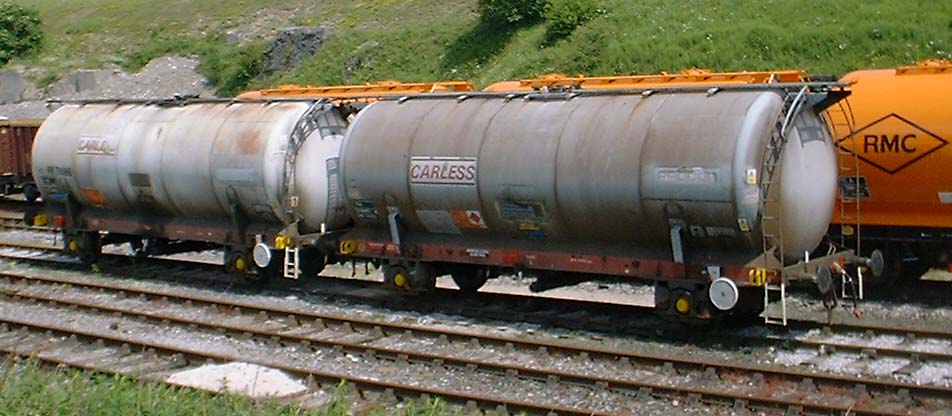 Above : A pair of TUAs nos. PR 70066 and 061 stabled in the Up sidings. These wagons have become more common on the fuel oil deliveries to/from Peak Forest in preference to the older TTA designs many of which have been withdrawn and their underframes reused. The TUAs were built to design TU001B by Standard Wagon in 1974 and were originally on hire to Mobil Oil before being re-hired to Carless, the branding of which still appears on the barrel. TUAs from the other batches 70023-067 (TU001A) and 70098-117 (TU001D) have also been noted here as well.
Internal Users at Tunstead Quarry.

Above : These are internal user wagons that are parked in BLI Tunstead Quarry. From the left we have what appears to be an inspection wagon - possibly to inspect the discharge equipment under the loader; the next wagon just has a flat base - these two may have been five plank wagons. Next is a large van which doesn't appear to have doors on this side - looks similar to the vans that Blue Circle cement once owned; Finally, a standard BR type Ventilated van. Dated May 1999.
Above L : ZFV 'Dogfish' DB 993412 has resided at Peak Forest since August 1998 when it was shunted out of a ballast train with bad wheelsets and has remained there ever since ! This wagon was built by Metro-Cammell in 1957 to BR Lot 2823 and has a Tare weight of 11000 kg and a GLW of 24.5 tonnes. The last Gen Repair was during 2/1991 at depot 1001 and the last PPM check was on the 30/07/98 at depot 70106. As can be seen the livery and data panel is now much faded and the ballast load is intact.
Above R : Oh dear ! Some local wags have discharged the ballast onto the track. However, there was evidence of patches of newish ballast around the yard so it has been put to good use after all. Dated 29/06/03.