Brunner Mond JEA Bogie
Limestone Hopper Wagons

These are the newly delivered wagons for Brunner Mond seen in Winnington Works yard. The nine wagons were delivered on Tuesday 5th September by 66107 from W H Davis' works at Shirebrook. A total of 27 wagons have been ordered. The wagons are surrounded by the wagons they are intended to replace - the elderly ex-I.C.I. PHV (JGV) hopper wagons and the CAIB PGAs currently used on the services.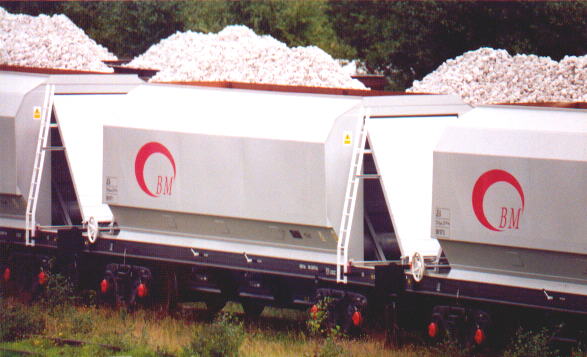 Above: A close up of wagon BM 19711 and 19713 both Inner wagons with no buffers. This is a telephoto shot and so is a bit foreshortened but gives an impression as to what the wagons look like.
Above : BM 19713 and 19712. The design is similar to the Marcon and RH Roadstone design of bogie hopper wagon previouslly built by W H Davis for the Private Owner companies. Livery is light grey with black below the solebar level. Red Brunner Mond (UK) Limited crescent and initals logo on side with outline black TOPS data panel. Sloped side ladder at right-hand end of wagon on both sides. Hand-brake wheel at end 1/4 only and is a six-spoke type wheel. Three clamshell doors control the discharge of stone with 'standard' discharge controls both pneumatic and manual. Ride on NACO Swing Motion bogies pre-assembled by Thrall Europa, York for W H Davis.
Outers = JEA-O BM 19701 - 706; JE008A; Tare 25.5t; Laden 76.1t; Gross 101.6t; 15178 mm (L) x 2800 mm (W) x 3750 mm (H) - NB Length is over coupler faces - over buffers is 15000 mm; Max Speed 60 mph; Projected Number range 19701-710
Inners = JEA-I BM 19711 - 731; JE009A; Tare 25.0t; Laden 76.6t; Gross 101.6t; 15000 mm (L) x 2800 mm (W) x 3750 mm (H) - NB Length is over coupler faces; Max Speed 60 mph; Projected Number Range 19711 - 750
Wagon Capacity for both types is 59.6 cu.m.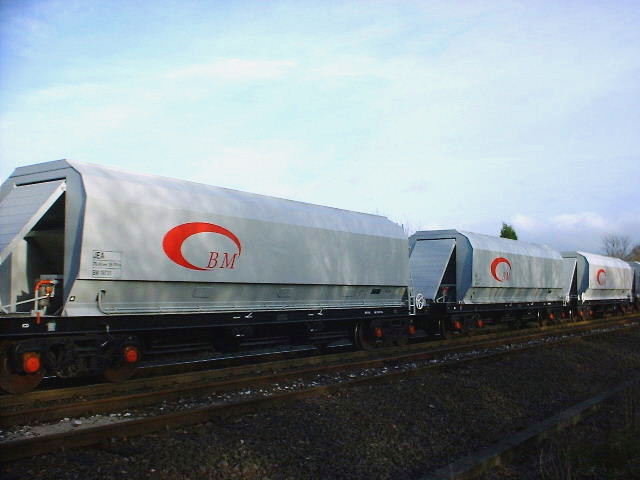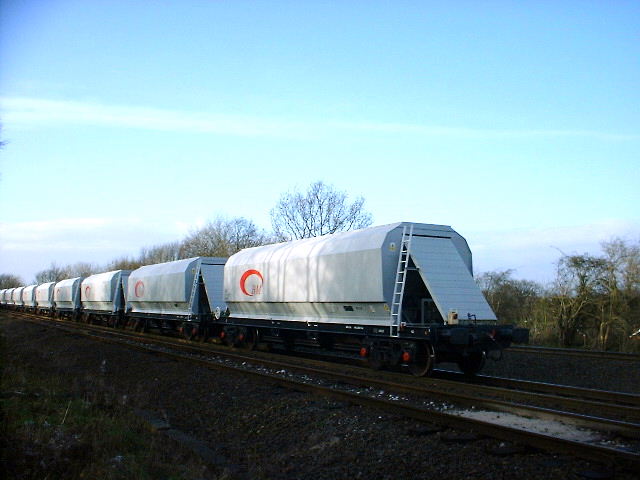 Above : views of the new wagons passing the site of the former Hazel Grove Midland station on 6th December 2000 behind 60038 at 1329. This would have departed Tunstead at 1300 arriving Oakleigh Sidings around 1430. There were 17 wagons in this formation which seems to be the favoured load for a class 60 - the class 66s are also used and these have been noted hauling a maximum of 13 loaded wagons.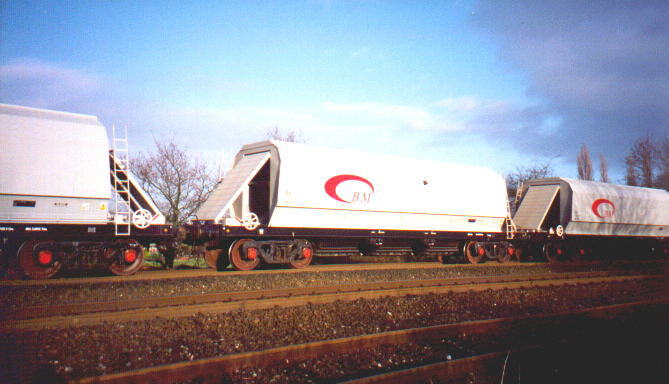 Above : Outer wagon 19702 en-route to Tunstead on a late-running morning empties. 701 is the other Outer wagon to the right of 702. 01/01/2001 at Hazel Grove Midland.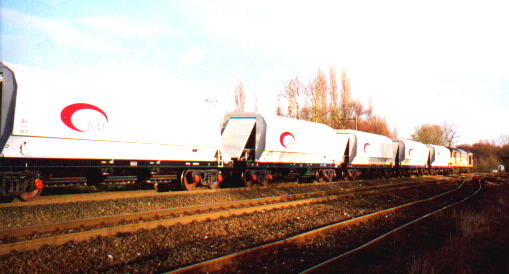 Above : The first five wagons behind 60095 on New Years Day 2001. Unfortunately, the train didn't stop and so I was unable to get any close-up shots of the wagons as they were still moving.