EX - ARC PGA STONE HOPPERS
These wagons were introduced to the long-running flow of Limestone from Tunstead to Northwich as replacements for the elderly vacuum-braked PHV / JGV I.C.I. hoppers. Most of PGAs were in store at Taunton, Westbury and Exeter and were moved north once they had been given new wheelsets and attention to braking and running gear. See also the Ex-Foster Yeoman Hoppers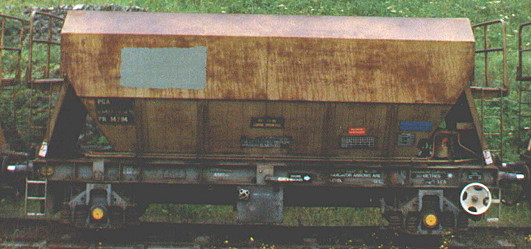 Above : Ex - ARC PGA PR 14294 at Great Rocks - has high sides and BSC Friction Pedestal Suspension. Note grey patch covering ARC logo and newly applied markings. Faded/rusty ARC Mustard brown is the main body colour with mid-grey underframe. PG013D; Procor, Wakefield 1979; Tare 12.9t; GLW 51t.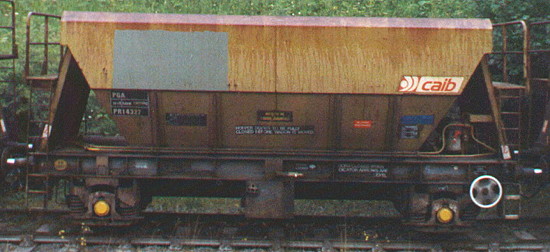 Above : Ex-ARC PGA PR 14327 at Great Rocks - unlike 14294 above this does not have the high sides or the BSC suspension units but has Gloucester Floating Axle units instead. The end platforms are lower than on 14294 but everything else is the same as above but with the addition of CAIB logos. PG016B; Procor, Wakelfield 1979; Tare 12.7t; GLW 51t.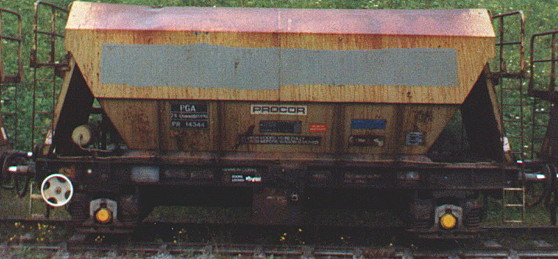 Above : Another ex-ARC PGA this time PR 14344 - livery is rusty ARC Mustard Brown with scruffy grey patch applied along the bodyside. This has the high sides like 14294 but has Gloucester Floating Axle suspension fitted. Compare the height of the end platforms with the wagons either side. PG013E; Procor, Wakefield 1980; Tare 13.1t; GLW 51t.