Buxton Lime Industries JGA Bogie Limestone Hopper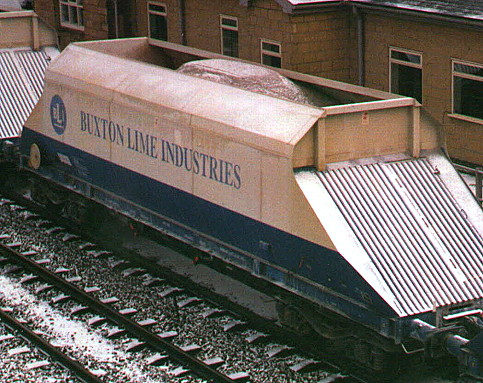 Above : One of the Buxton Lime Industries JGA bogie hopper wagons seen passing Peak Forest on a cold January day in 1997. These were designed by Powell Duffryn Rail Projects but built by Tatrastroj Poprad in Slovakia during 1994. Livery is white with lower blue strip and underframe. These are used on the flows from Tunstead to Bredbury Tilcon, Hindlow BLI, Ratcliffe Power Station and ocasionally on the Manchester Airport services. Now that the elderly JGV wagons no longer run it is possible that more wagons of this design may be introduced onto the Northwich Limestone flow in conjunction with the Freight Facilities grant that was awarded to Brunner Mond (UK) Ltd in October 1999.
JGA-K; JG014B ?; Powell Duffryn Standard 1994; Tare 22.3t; GLW 90t; Y25 Fabricated bogies; Numbers 19200 - 219 = 20.
Above Left : View of BLI hopper looking from Great Rocks road overbridge - note additional strengthener bars fitted inside top of hopper body.

Above Right : Side view of BLI 19212 forming the rearmost wagon of a train of 17 empties returning from BLI Hindlow to BLI Tunstead on Sunday 10th June. The wagons are parked on the Up line whilst the class 60 loco is detatched to enable it to run round the train via Peak Forest South and Great Rocks.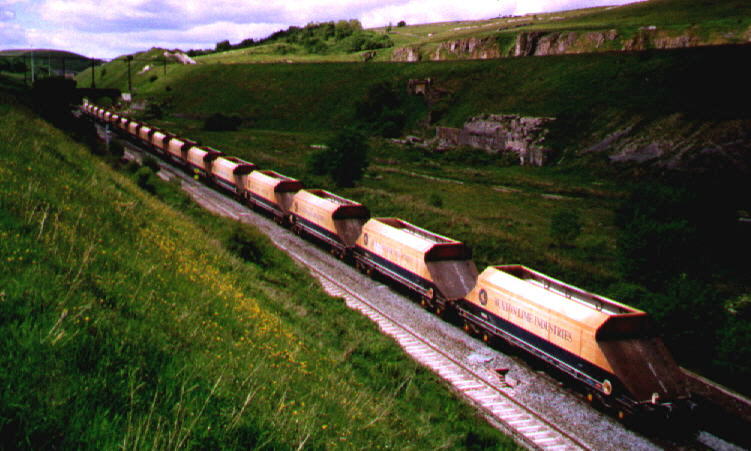 Above : The rake of 17 JGA wagons parked on the Up line near Great Rocks. Originally, these Hindlow trains used the loop line seen in front of the wagons but track and drainage defects in the past few years has precluded this - however on this occasion a rake of Seacow/Sealion ballast hoppers were stored at the Peak Forest end of the loop.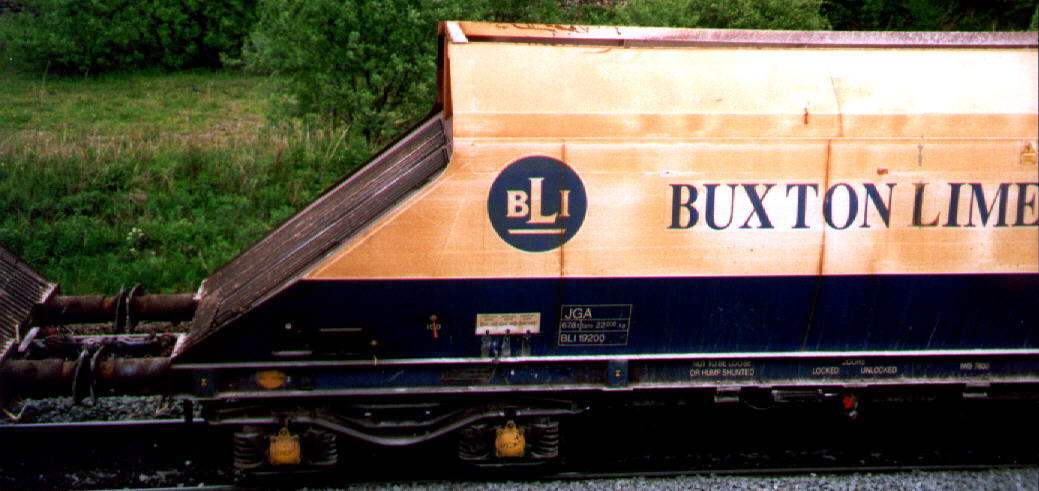 Above : BLI 19200 looking rather work stained. The new Bachmann 4mm model of these wagons is spot on and only need a few minor details added like the yellow axlebox covers and a change of wagon number. Oh and a liberal amount of weathering to make them look like the real thing ! The wagons were repainted during 1999 and afaik only the white portion of the body was treated - the white between the lettering was not repainted and so a 'panel' was formed around the letters.
Since the photos were taken in June 2001 the wagons have again been cleaned/repainted and now have a white upper body panel.