BLI JGA Bogie
Cement Tanks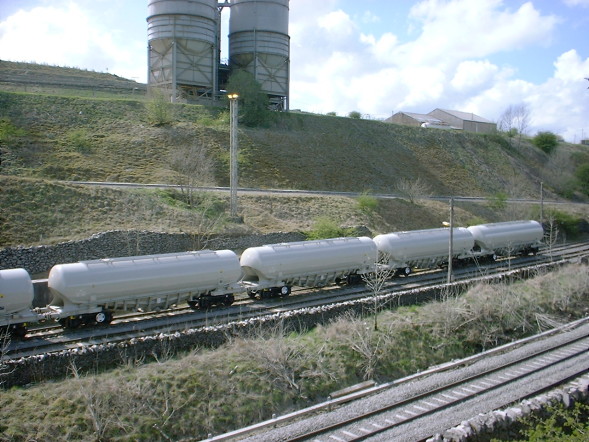 Above : New JGAs 11703 / 710 / 709 / 706 seen stabled in the reception sidings at Great Rocks. Tunstead quarry and the new cement loading facilities are off towards the left as is Great Rocks tunnel through which the two lines in the foreground pass through.
Wagon details JGA-M; BLI11701-20 to Design Code JG016A; dimensions 13.84 x 2.82m; cap. 64.0t, tare 26.0t; 60mph. Registration code 32BLI. Details courtesy of www.gbrail.org.uk


The first nine wagons parked in Great Rocks reception sidings were 11701 / 705 / 704 / 708 / 707 / 703 / 710 / 709 & 706. They actually have capacities quoted as 66.2t except 701 which is quoted as being 66.3t and their tare weights range from 23,700 kg to 23,780 kg. Built by Arbel-Fauvet Rail of Douai, France. The fact that the system only reports that 20 wagons have been registered is strange as I thought that 30 wagons were being built. Maybe they will come later....
Above : BLI JGA 11701 is seen at the end of the rake of nine wagons
Above L : White data panel on BLI 11705 and the white handbrake wheel mounted on the TF25 bogie. Note the different style OHLE warning flashes - the lower flash looks continental and the standard HSE sticker is above to the left. What is unusual is that the wagons do not have any BLI logos or lettering like the JGA stone hoppers and the CARKND may well be changed to JCA or JDA as the wagon is clearly a tank not an open hopper. I'm not sure that applying the lettering and panel in white is such a good idea unless the wagons are to be kept ultra clean.
Above R: Comparison of end profiles between the two wagons. Note the air brake cylinder fitted to the end of the wagon under the overhang of the curved end. International type oblong buffers are fitted along with screw couplings.
Status as of 07/05/2003
11701 / 703 - 710 reported at Great Rocks reception sidings as above
11702 - last reported at Derby RTC for type-testing
11710 - 719 - reported passing Ashford on 03/05 by Tom Slade and passing Rugby on BH Monday 05/05 by Mike Fraser and arriving at Bescot yard in the consist of 6S75 Wembley - Mossend by Pete Hickman where they were detatched. Tom Slade and Pete Hickman gen from gbrail.org.uk .Gen from Mike Honeyman on The UK Wagons pages reports they were at Warrington Arpley on the 07/05 and so should be tripped up to Tunstead via the 6H66 Enterprise feeder on Thursday 08/05.
11720 - unknown
11721 - 730 - gen posted by the Doctor to www.gbrail.org.uk indicates that the next batch of ten wagons will be following and these will take design code JG016B and this will retrospectively apply to 701 - 720 as well.
Proposed timetable is for the following services to operate
6E28 Tunstead d. 02.45 - Hunslet East a. 06.07 and 6M22 Hunslet East d. 11.07 - Tunstead a. 18.52 runs WFO
6M09 Tunstead d. 02.55 - Walsall a. 07.17 and 6M82 Walsall FT d. 12.41 - Tunstead a. 16:27 runs MWFO
6H96 Tunstead d. 17.10 - Bredbury a. 18.36 and 6H97 Bredbury ad. 22.30 - Tunstead d. 00.16 SX - stone or cement ?
6A50 Tunstead d. 23.02 - Willesden Brent a. 05.16 and ?? return MWO
6E88 Tunstead d. 23.45 - York Up Yard a. 02.24 and 6M88 York Up Yard d. 22.37 - Tunstead a. 01.40 TTHO - cement ?
A visit to Peak Forest on the 15th July produced a rather unexpected sight of 60078 with 12 of the new tanks in tow returning empty to Tunstead. Subsequent enquiries revealed that this was the 6Z54 Walsall to Tunstead additional service. A bonus was that 11716 was at the head of the rake - this is the only wagon to have been branded with the BLI logo and 'Buxton Cement' wording. This was incidently applied for the recent Hillhead trade show/exhibition.
AL & AR : BLI 11716 behind Mainline Blue liveired 60078 and showing clear signs of having been loaded - note the powder stains on the logo and on the bogies.
BL & BR : Two more wagons both unid as the train started to move off
Consist was 11716 / 719 / 713 / 711 / 712 / 718 / 717 / 714 / 715 / 702 / 706 & 709.
Therefore I have concluded that a limited service was in operation using cement powder produced by the existing kilns and operating to Walsall only.
PS 04/11/03 I have since been advised that the above working was the only working of these wagons as a trial and it was not repeated and the wagons would be stored until the New Year.
New photos from visit on 27/09/03 shows an interesting development...
AL and AR : This view from the public footbridge shows the 24 wagons which have been sheeted over to protect them from the lime and cement dust which is a common feature of Great Rocks dale. The line on which they are standing was newly laid and the footbridge was extended and part of the existing cutting wall blasted back to make room for the new loading shed seen in the background. The two lines next to the cement road lead down to the roadstone and limestone loading bunkers further down. It would appear that most of the track in this area was renewed at the same time.
BL : A close up of the Powell Duffryn TF25 bogies as fitted to these wagons. Note that even the solebar numbers are covered up as well. The dust has already settled on the framework of the bogie.
BR : A close-up view of the buffers fitted to these wagons, partially obscured by the sheeting.
I expect that these wagons will remain in storage until the end of the year when they should enter full service as described above. However, I am aware that construction of the cement plant is not progressing quite as planned and this may delay things even further.